First Chapter/Intro's  hosted by @Bibliophile By the Sea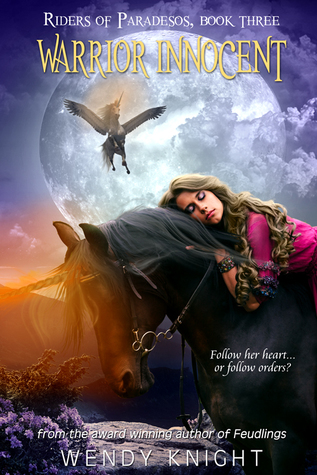 Warrior Innocent (Riders of Paradesos, #3) by Wendy Knight
Version: Kindle Edition
200+ pages | Pub Date: February 2017| CleanReads.com
INTRO:
Ten thousand black and armored unicorns stood silently under the blue, blue sky of Paradesos. "Are they ready, Lil Bit?" Iros asked.
"Yes." Lil Bit seemed small next to their stoic commander, but the ancient wisdom in her eyes made her seem so much older.
"We could wait. Train them more."
Most of these new riders were going into battle for the first time. A battle few would return from. The demons they fought outnumbered them one hundred to one, and yet there was no fear in the faces waiting for war.
Lil Bit smiled up at Iros. "They are ready."
Iros nodded. It had been hundreds of years since he'd led an army this big, at least an army with riders. Unicorns had been fighting alone for centuries. Now, they had help, and Lil Bit brought in more help every day; those eager to save the world from the monsters who had taken it from them, one soul at a time.
"Then let's go find your sister before she gets herself killed, huh?" He raised his scepter to the sky. "Paradesos, ride!"
So …. based on this intro, would you read this book?
---
YOU CAN COMMENT BELOW, OR WHY NOT JOIN IN AND MAKE YOUR OWN POST
– Just remember to comment with your link so I can check out your post!
FOLLOW ME :… @tfaulc (click links below)
TWITTER | INSTAGRAM | GOOGLE+ | BLOG |WATTPAD | FACEBOOK | GOODREADS | PINTEREST