Goodreads Monday is a weekly meme hosted by Lauren @ Lauren's Page Turners 
In order to participate, choose a random book from your TBR and show it off! Don't forget to link here and link me up so I can check out which books you guys picked!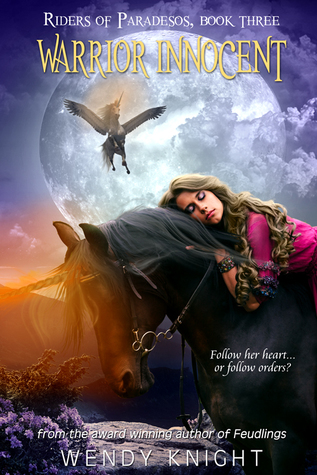 Warrior Innocent (Riders of Paradesos, #3) by Wendy Knight
Version: Kindle Edition
216 pages | Pub Date: 21 February 2017  | CleanReads.com
---
Fighting a battle you're certain to lose sucks. Doing it in secret while everyone thinks you're a traitor sucks worse.
Scout has saved her sister and as promised, Lil Bit has brought Iros an army. An army of innocents. Scout, Trey, Ashra and Torz are in charge of training this child army and making them into mighty warriors. Meanwhile, their parents are still trapped in Aptavaras with no hope of escape.
Until Ariston gives Scout an offer she can't refuse.
Now, she's waging an internal war–follow her heart or follow orders? She believes she can save lives and maybe end this war, but everyone else…
Everyone else believes she's leading them straight into Ariston's waiting arms.
---
Please comment below or Join in on the fun and make your own post.
Just remember to comment with your link so I can check it out
FOLLOW ME :… @tfaulc (click links below)
TWITTER | INSTAGRAM | GOOGLE+ | BLOG |WATTPAD | FACEBOOK | GOODREADS | PINTEREST