Goodreads Monday is a weekly meme hosted by Lauren @ Lauren's Page Turners 
In order to participate, choose a random book from your TBR and show it off! Don't forget to link here and link me up so I can check out which books you guys picked!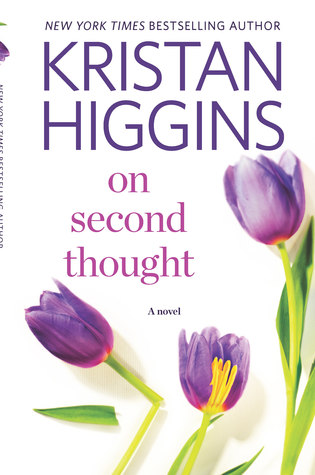 On Second Thought by Kristan Higgins
Version: Kindle Edition
480 pages | Pub Date: 31 January 2017  | HQN Books
---
Ainsley O'Leary is so ready to get married—she's even found the engagement ring her boyfriend has stashed away. What she doesn't anticipate is being blindsided by a breakup he chronicles in a blog…which (of course) goes viral. Devastated and humiliated, Ainsley turns to her older half sister, Kate, who's struggling with a sudden loss of her own.
Kate's always been the poised, self-assured sister, but becoming a newlywed—and a widow—in the space of four months overwhelms her. Though the sisters were never close, she starts to confide in Ainsley, especially when she learns her late husband was keeping a secret from her.
Despite the murky blended-family dynamic that's always separated them, Ainsley's and Kate's heartaches bind their summer together when they come to terms with the inevitable imperfection of relationships and family—and the possibility of one day finding love again.
---
Please comment below or Join in on the fun and make your own post.
Just remember to comment with your link so I can check it out
FOLLOW ME :… @tfaulc (click links below)
TWITTER | INSTAGRAM | GOOGLE+ | BLOG |WATTPAD | FACEBOOK | GOODREADS | PINTEREST