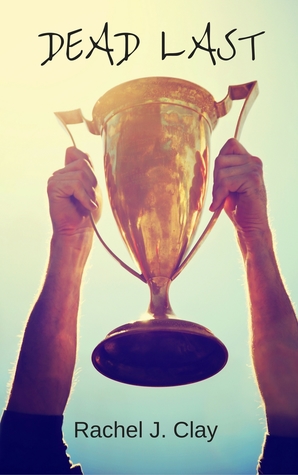 Dead Last by Rachel J. Clay
Version: Kindle Edition
76 pages | Pub Date: 16 October 2016 | Smashwords Edition
Star Rating: 4/5

Carla and Sasha are the daughters of an Olympic Champion and because of that they are expected by their family to compete in running, swimming and athletics and win. Until Sasha goes for a run on her own and disappears. No one knows what happened to her, or why she disappeared.
Carla is left to compete on her own, until she is approached by a boy she doesn't like, who warns her to stop competing, as her life might be in danger. Carla thinks it a cruel joke… but is it?
---
I received this book in exchange for an honest review
This is a short story about Carla who has taken on the expectation of excelling in sports after her sister Sasha has disappeared. She is struggling with this and the only way to keep it together is to carry on with her sports running, swimming. But one day she gets a note left for her saying she is in danger and not to attend the sports event. She thinks this is just a prank from her school friends but when her dog disappears and she gets another note that if she doesn't stop the dog will get it.
Unfortunately she doesn't take heed of this as she doesn't want to disappoint her father, and next we find that she has been poisoned and the dog has been killed.
Rachel J Clay really keeps us in suspense to the end when we find out who is doing this to her, we have Carla's attraction to Caleb even though she first thought her was leaving her the notes, then also Hamish kept coming on to her and she didn't want to know him even though he was also warning her too.
This was a great story and hope to see a next book book with these characters.
---
---
YOU CAN COMMENT BELOW, OR WHY NOT JOIN IN AND MAKE YOUR OWN POST
– Just remember to comment with your link so I can check out your post!
FOLLOW ME :… @tfaulc (click links below)
TWITTER | INSTAGRAM | GOOGLE+ | BLOG |WATTPAD | FACEBOOK | GOODREADS | PINTEREST